STAGE IV / TIER 4 FINAL
Legend
PM Particulate Matter

HC Unburnt Hydrocarbons

NOx Nitrogen Oxides

CO Carbon Monoxide

N2 Nitrogen
CO2 Carbon Dioxide
H2O Water



*

AdBlu

e

®

/ DEF = CO(NH

2

)

2

+ H

2

O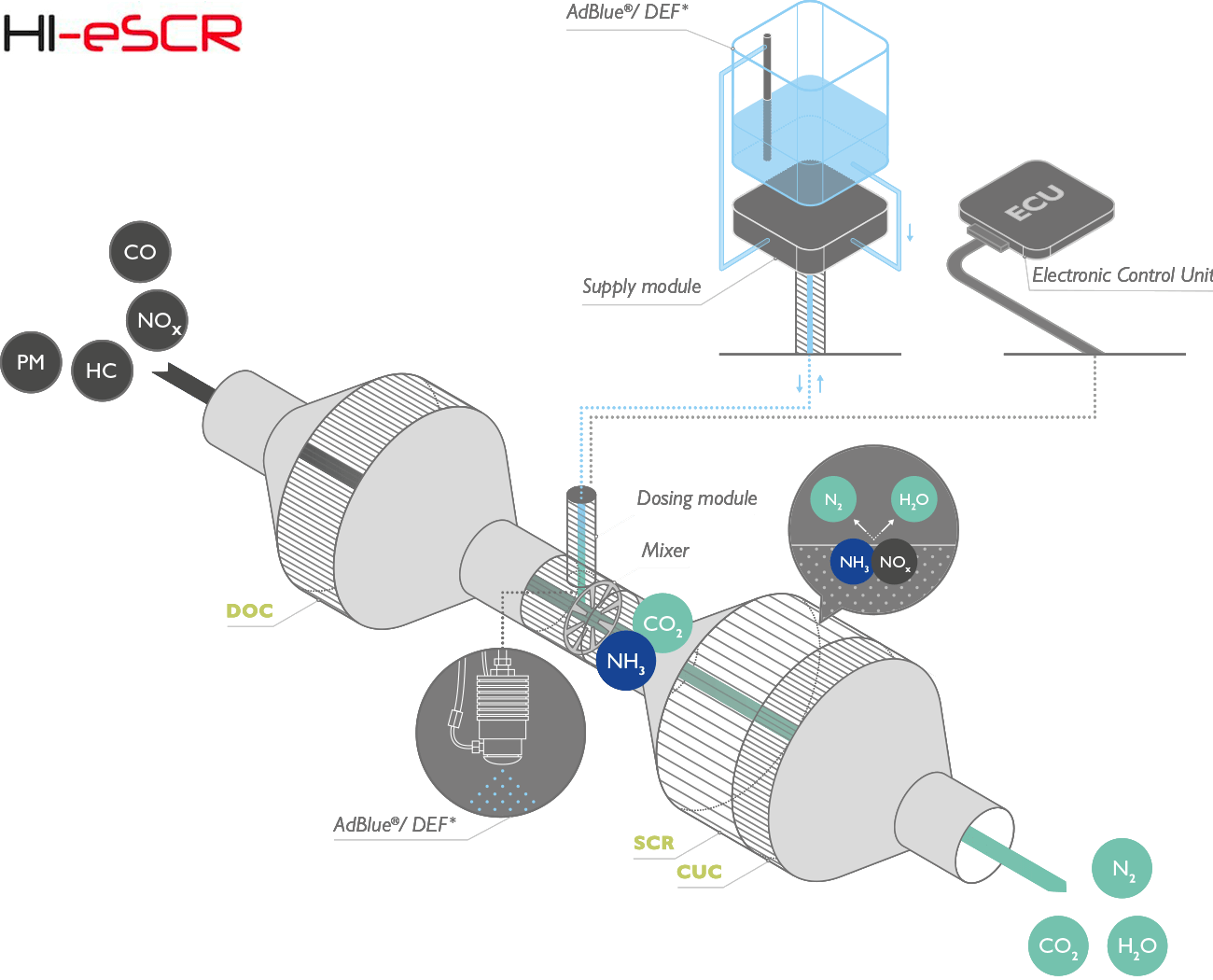 FPT Industrial engines for medium / heavy agricultural and construction equipment (power rating >76 hp) achieve Stage IV / Tier 4 Final emission levels with our exclusive, patented HI-eSCR system.
Thanks to continuous R&D, we have enhanced SCR technology (Selective Catalyst Reduction), that transforms NOx into nitrogen (N2) and water (H2O) by injecting Urea in the exhaust pipe. This allowed us to develop a no-EGR solution, based on optimized combustion and very high NOx-conversion efficiency (95-98% versus 80-85% of competitors' average).
Patented HI-eSCR features include an exclusive Urea dosing control system (based on a network of integrated sensors that monitor any excess in NOx and Ammonia) and a thermally-insulated high-turbulence mixer, that allow homogeneous urea hydrolysis and full emission compliance.
NOx abatement is provided by SCR only. This ensures m​​​ore simplicity, no additional encumbrance, less energy dispersion and easier servicing. Optimized temperature in the combustion chamber reduces fuel consumption and particulate generation, so lowering emissions without efficiency loss. Excellent transient response also maximizes productivity.
Do you want to know more?
Download our Stage IV line up