EURO VI
Legend
PM Particulate Matter

HC Unburnt Hydrocarbons

NOx Nitrogen Oxides

CO Carbon Monoxide

N2 Nitrogen
CO2 Carbon Dioxide
H2O Water
*AdBlue® / DEF = CO(NH2)2 + H2O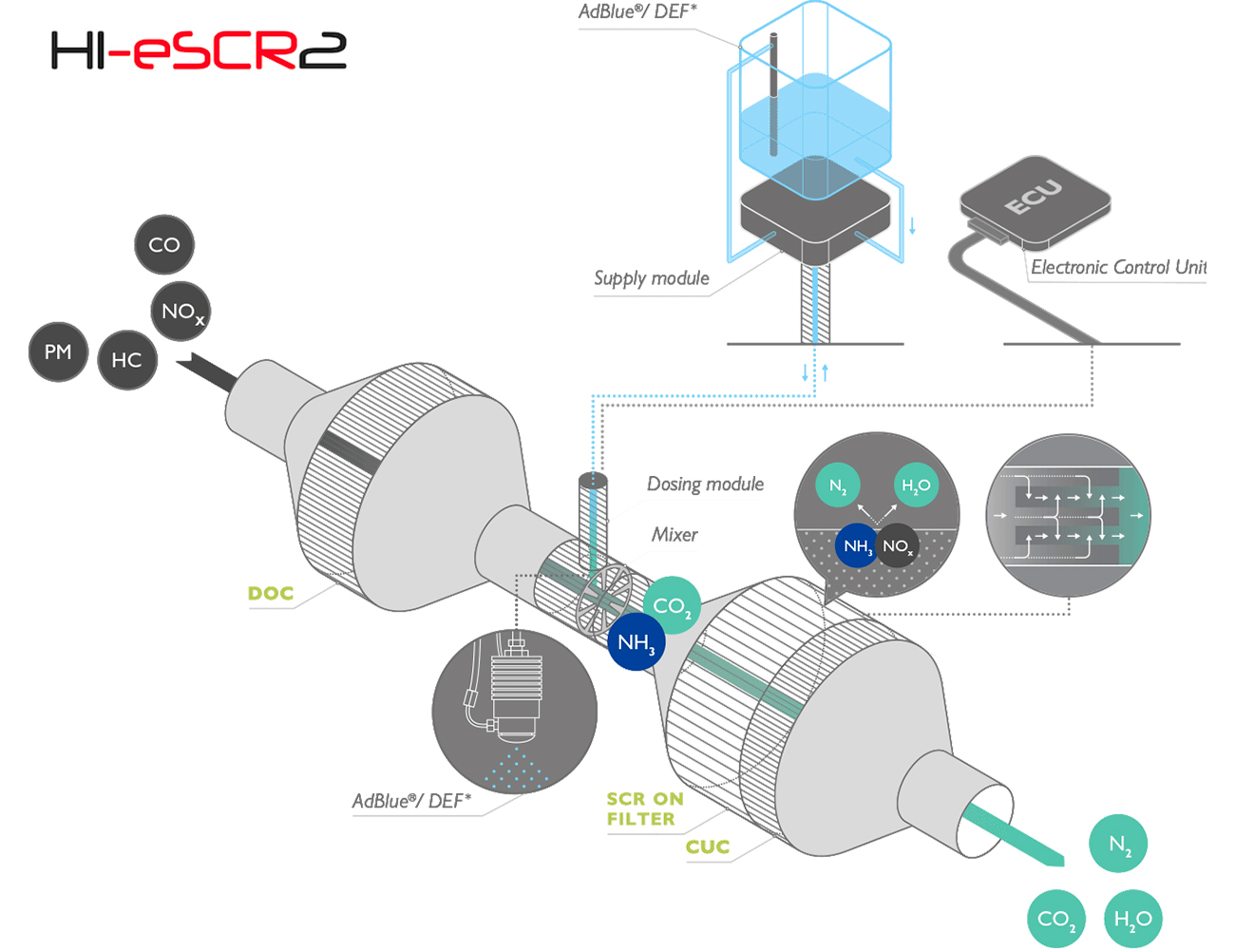 THE UNIQUE FPT SOLUTION FOR OFFROAD, MARINE AND POWER GENERATION APPLICATIONS
To maintain the advantages of the unique and unbeaten HI-eSCR technology, FPT Industrial integrates a maintenance-free filtering device on its SCR catalyst, thus allowing to comply with tightened limits on PM emissions within a compact package. The second generation HI-eSCR 2, applicable for engines above 56kW and below 560kW, where different emission limits apply, will maintain the same after-treatment dimension of the current Tier 4 Final / Stage IV applications, requiring no machine redesign nor layout changes for easier upgrade to next emission level. Thanks to optimized combustion, leadership on performance and fuel efficiency is confirmed, while the maintenance-free after-treatment system ensures low running costs avoiding unplanned downtime.
High Productivity
Reduced operating cost
"For Life" after-treatment system
Enhance reliability
Maximized uptime
NOx abatement is provided by SCR only. This ensures more simplicity, no additional encumbrance, less energy dispersion, and easier servicing. Optimized temperature in the combustion chamber reduces fuel consumption and particulate generation, so lowering emissions without efficiency loss. Excellent transient response also maximizes productivity. No forced/parked regeneration avoids downtime.
Do you want to know more?
Download our Stage V line up