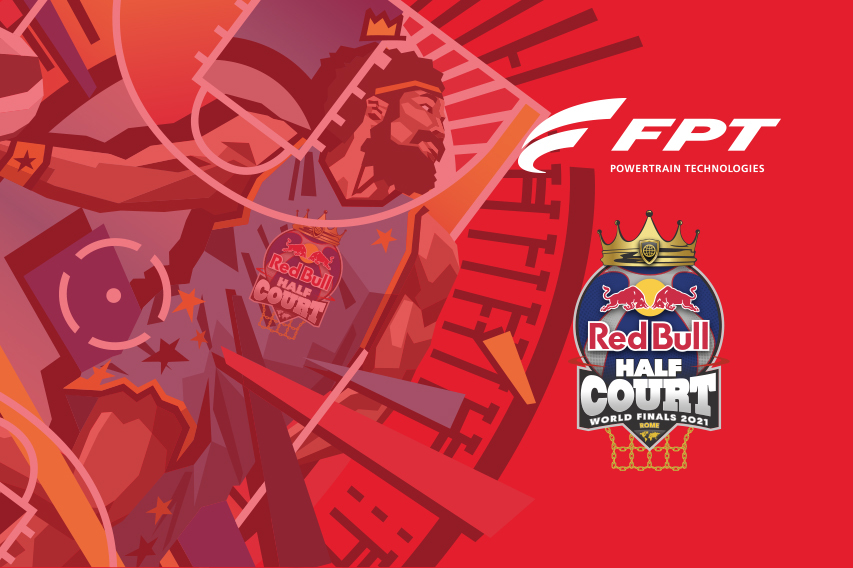 You enjoy the event. We bring the power! FPT Industrial is Red Bull's Official Technical Partner for the third time, for the final of the Red Bull Half Court 3x3 World Street Basketball tournament in Rome
2 teams of 3 players, a hoop, a basketball, an enthusiastic crowd and a final to be contested down to the last breath. And all-around rap music and DJ sets, street art and performances, entertainment and street fashion. These are the very high energy, extremely spectacular ingredients of the
final of the Red Bull Half Court 3x3 World Street Basketball tournament
, to be held at the Scalo San Lorenzo Playground in central Rome on 16 October, with FPT Industrial on court in the role of Official Technical Partner.
After the 2 events Red Bull Wake The City in Milan and Red Bull Cliff Diving in Polignano a Mare, for the third consecutive time FPT Industrial and Red Bull are joining forces to create a thrilling sporting spectacle with speed, energy, quick thinking, skill and teamwork the key factors in securing victory.
Held in more than 20 countries worldwide, Red Bull Half Court is not only the most spectacular but also the most universal and inclusive street basketball tournament anywhere in the world, because it involves its host communities in a unique, unforgettable experience.
In keeping with the event slogan "You Enjoy The Event. We Bring The Power", the entire event was fully energized by the two "Powered by FPT Industrial" power generators already successfully used at the Darsena in Milan, which delivered reliable, quiet, sustainable power for the whole event: court lighting, sound, music, the hospitality village and any other equipment involved in this street sport festival.
The two "Powered by FPT Industrial" power generators played their part in a special arena with completely illustrated walls evoking the decoration of the 800 square meter Scalo San Lorenzo Playground created by famous Roman street artist Francesco Persichella, who works under the name of PISKV: a stylized ground plan of the Colosseum, with inside it the figure of a basketball player performing the iconic slam dunk.
Do you want to stay updated on all the news?