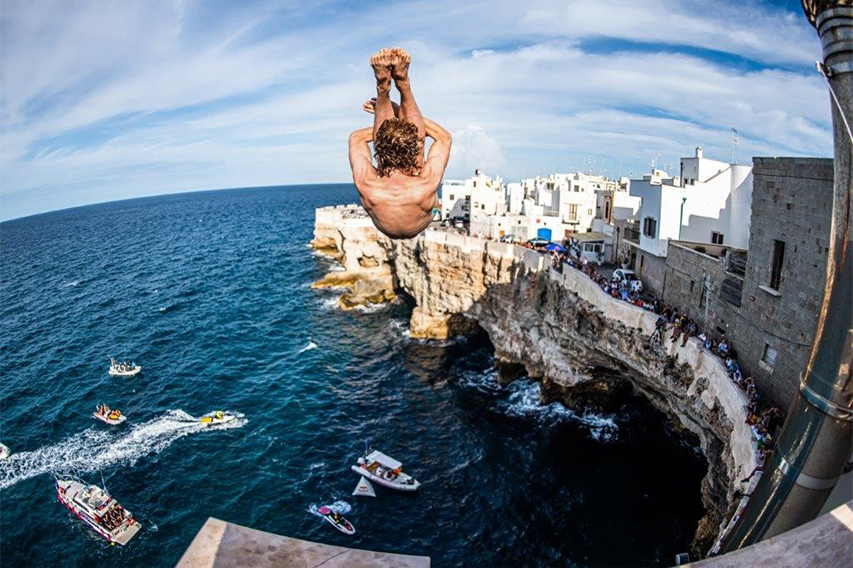 Thrilling dives and a sea of excitement! FPT Industrial is Official Technical Partner of the Final of the Red Bull Cliff Diving World Series
Would you dive into the sea from a height of 9 floors? Probably not, but for the sportsmen and women taking part in the Red Bull Cliff Diving World Series, the world high-diving championship, this is absolutely normal. And for the spectators, a thrilling show. Even more so this year, thanks to the participation, in the role of Official Technical Partner, of FPT Industrial at the last round of qualifying and the final, held in Polignano a Mare (Bari, Italy) on the 21 and 22 and the 25 and 26 of September, respectively.
Created and run by Red Bull since 2009, the Red Bull Cliff Diving World Series is a competition in which a strictly limited number of sportsmen and women, divided into the two categories Divers and Wildcard Divers, dive from a platform located at a height ranging from 26 to 28 meters above the surface of the water.
In the spectacular natural arena of Polignano a Mare, which has been the stage for this vertigo-inducing challenge seven times to date, and is the European home of this sport, the competition was even more special. In fact, after each dive the competitors have to walk through the historic center of the town, through the living room of a private residence and up to the diving platform mounted on a loft.
FPT Industrial supplied the boat which carried the judges, a DC 10 built by Cantieri Dellapasqua and equipped with two FPT N40 250 E electronic Common Rail diesel engines, with four valves per cylinder, each putting out 184 kW, while offering ultra-low emissions and minimal noise and vibration, ideal for all pleasure vessels up to 12 meters. The hospitality vessel, from which divers could watch the competition take place, was also provided by FPT Industrial. In this case the boat was a Maine 530 from Cantieri Estensi, equipped with two FPT N67 450 N 331 kW diesel engines, which offer excellent performance with a limited weight and size, as well as a reduced environmental impact. They are also ideal for any type of pleasure vessel up to 17 meters.
The Brand also took part in the event through its stand in the hospitality village, where it displayed the jewel in the crown of its Marine range, the 735 kW C16 1000, holder of the world speed record on water, set in March 2018 on Lake Como with a speed of 277.5 km/h.
DISCOVER MORE ON FPT WEBCAST.
Do you want to stay updated on all the news?