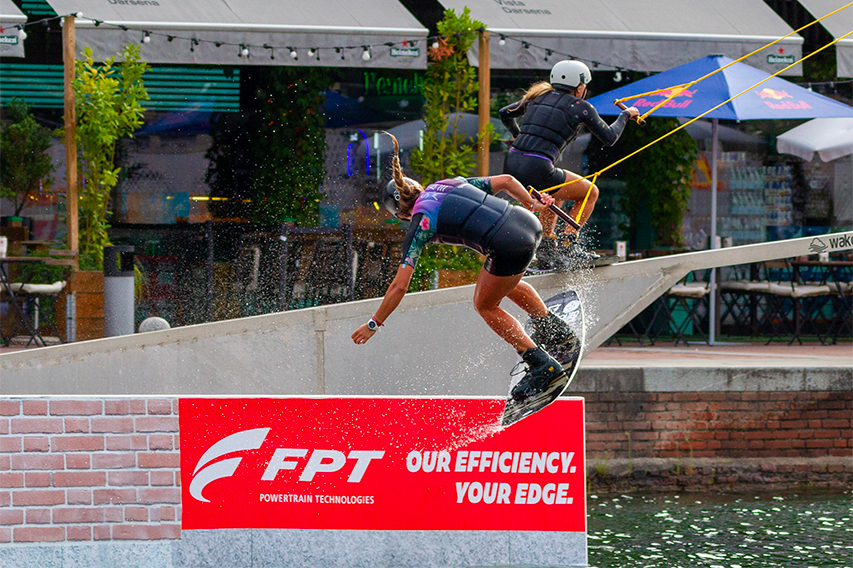 WAKEBOARD CONQUERS MILAN. FPT INDUSTRIAL IS THE OFFICIAL TECHNICAL PARTNER FOR "RED BULL WAKE THE CITY"
Try combining water-skiing and snowboarding. Add the most daredevil international champions, music at full blast and breath-taking acrobatics. Boost the mix with a massive energy surge from FPT Industrial and Red Bull. And the result? Red Bull Wake The City, the spectacular wakeboard competition held at the Darsena in Milan on 4 September.
With FPT Industrial in the role of Official Technical Partner, the Milan competition was held in the Cable Wakeboarding format: instead of a motorboat, the athletes were towed by equipment that closely resembles a ski lift and challenged each other in pairs in a special arena powered by FPT Industrial.
The sustainable, reliable, silent energy of five generators with FPT engines provided all the power needed for the smooth running and success of this high-adrenaline event: first and foremost the towlines used by the competitors for their amazing moves, and then the lights, music, staging and speakers.
The undisputed stars of the Milan event, and FPT Industrial ambassadors for the occasion, were Massimiliano Piffaretti, known as "Piffa", and Claudia Pagnini, two of the world's top wakeboard superstars.
Victory in the men's event went to the team of Jules Charraud and Clement Dominjon, while the women's competition was won by Jamie Lopina and Maryh Rougier.
To view the most thrilling clips, click here.
Do you want to stay updated on all the news?