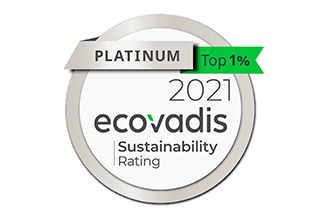 Sustainability ranks even higher than gold. CNH Industrial receives the Ecovadis platinum medal
For the first time, CNH Industrial was awarded the platinum medal in the annual sustainability assessment published by EcoVadis, one of the top, most trusted corporate sustainability rating providers, confirming the company's role as global leader in sustainability in all its areas of activity and industrial segments.
CNH Industrial has been taking part in this ranking for some time, and had achieved Gold level in the previous four years. EcoVadis assesses the sustainability impact of more than 75,000 companies in over 200 industrial sectors on the basis of documented proof, examining four main themes: environment; employment and human rights; ethics; and supply chain sustainability.
Do you want to stay updated on all the news?