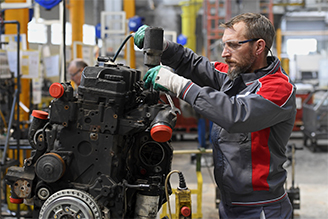 REMANUFACTURING GOES INTO SHOW BUSINESS! IN BRAZIL, FPT ORIGINAL REMAN BECOMES A WEB SERIES
Little more than a month after its launch in Brazil, FPT Original Reman, the line of agricultural and construction machine engines remanufactured and guaranteed by FPT, has conquered the social media world and attracted an ever-increasing audience with an original web series about the adventures of a used engine and its complete remanufacturing. Filmed just like a work intended for the cinema, presented by the very engaging Tiago Lopes and featuring cameo appearances by the FPT Reman remanufacturing specialists and a real New Holland customer, the five episodes of the web series Seu Motor Novo de Novo provide a very effective, dynamic account of the entire process for remanufacturing an engine, including all the phases of disassembly, cleaning, inspection, worn component replacement and final testing.
While we await the upcoming episodes, we don't think we'll be giving anything away if we tell you that a happy ending is expected.
To view the whole series broadcast on the FPT Webcast channel, click here.