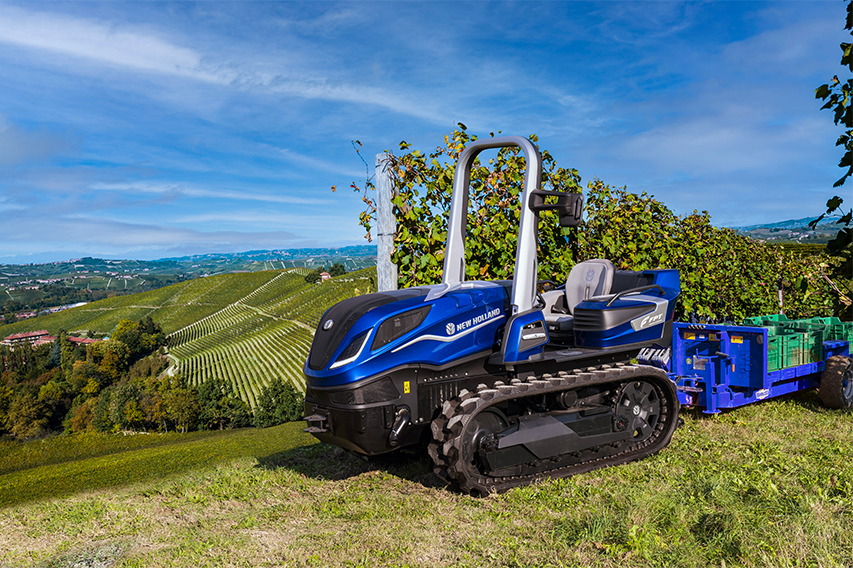 LET'S DRINK TO SUSTAINABILITY! FPT INDUSTRIAL AND THE FIRST BIOMETHANE-ENGINE CRAWLER TRACTOR STAR AT THE FONTANAFREDDA GRAPE HARVEST FESTIVAL
FPT Industrial was one of the stars at the #Renaissance Grape Harvest Festival, held on Friday 10 and Saturday 11 September in the splendid setting of the Fontanafredda estate at Serralunga d'Alba (Cuneo, Italy).
Both the FPT Industrial F28 NG biomethane engine and the New Holland TK Methane Power crawler vineyard tractor, which will be the stars of the first zero-emission Barolo harvest, were on display at the FPT Industrial stand set up on the estate for the occasion.
From this year, the precious grapes of the Vigna La Rosa cru, which yield a Barolo included in the Wine Spectator Top 100, will be grown and harvested with the aid of a prototype New Holland TK Methane Power crawler tractor with biomethane-fueled FPT Industrial F28 Natural Gas engine, and thus with an environmental footprint of zero, since it is powered not by a fossil fuel but by methane derived from the anaerobic digestion of agricultural waste.
This first zero-CO2 grape harvest was made possible by a three-year partnership of local organizations of excellence: FPT Industrial, the world's top producer of low environmental impact engines; Fontanafredda, the historic winery founded by the first King of Italy in 1858, which currently has 120 hectares of certified organic vineyards; and New Holland Agriculture, leader in the production of agricultural machinery. The three-year partnership is supported by a Piedmont Region project that brings local businesses together, proving once again that major initiatives of this kind can provide a virtuous example of networking for a common objective.
Do you want to stay updated on all the news?