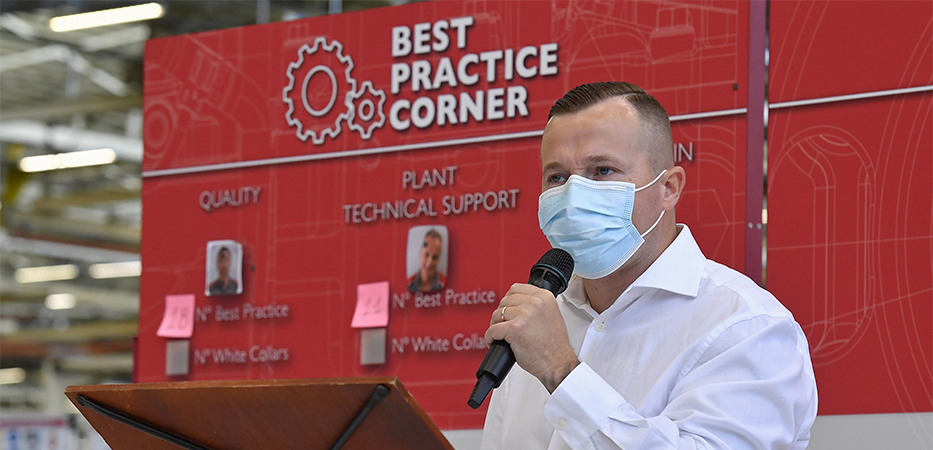 Safety at work, always. A strong and motivating account for employees of the Turin engines plant
"My blood was freezing and my heart was shifting. This is what I felt that day, the feeling you get when electricity is passing through your body. The feeling you get from an electric shock – and here I am today, missing an arm." Thus begins the account of Matteo Mondini during a cycle of meet-ups with the individual teams scheduled for the UTEs of FPT Industrial's Engines Plant in Turin.
Matteo, 40 years of age, lost his right arm in a workplace accident on 22 October 2010, leading to 33 operations. Owner of a hardware company, and married with two children, Matteo saw his whole life change dramatically from one day to the next. A life that he has had to – and above all wanted to – reinvent from the ground up.
Today, Matteo is committed to talking about the importance of safe working practices in companies, schools and at public events (live and virtual), because, as he says: "you work to live, not to die". The cycle of meet-ups scheduled for the Turin plant was held with audiences of twenty people at a time, during complete line stoppages. This allowed everyone to concentrate on Matteo's experience and the importance, which can never be overstated or repeated too often, of personal conduct in minimizing and eliminating the risk of accidents at work.
Matteo continues: "I'm here because I believe that my story can be a warning and an aid, it can help people open their eyes to aspects which are often underestimated and it can be an inspiration. I am here to transmit positivity and tell people that life is an unrepeatable gift, which must not be wasted. I'm here to tell you that you have to take care of yourselves, you have to be vigilant. The truth is that it's not enough to comply with the rules: there has to be a culture of safety. And that's something I've seen here in this company. The safety of each and every one of you is not a cost, but an investment.But now I want to tell you something that I understood only when it was too late – it's not enough to have a company which cares about your safety. It's not enough, because even if you think your workplace is a safe one, you must never let your guard down! Eighty per cent of accidents at work are due to human error, dangerous actions carried out by workers without the awareness of the risks they are running. Men and women who are so used to carrying out a specific action that they no longer pay attention to what is happening.Safety at work is your responsibility, too. Actually, it's your responsibility above all." To learn more about Matteo Mondini's story and hear his full account, click here.
Do you want to stay updated on all the news?