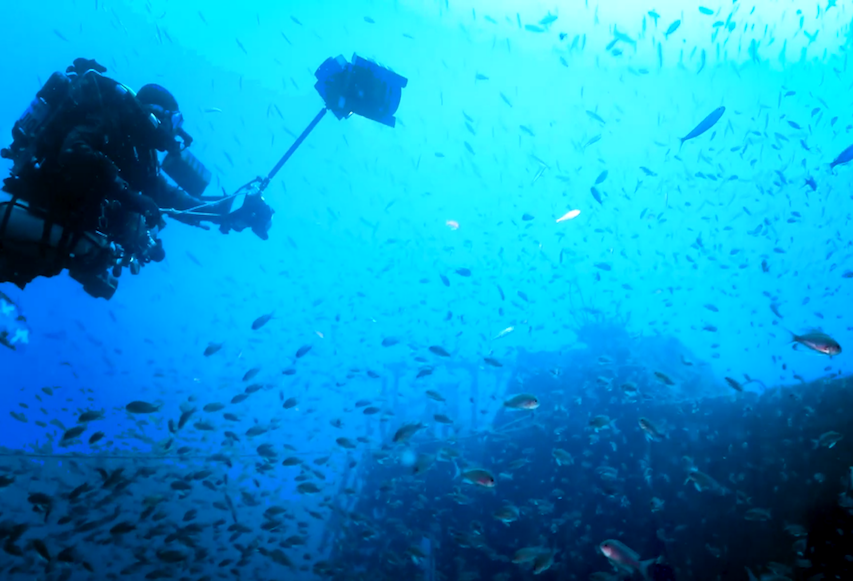 Deep emotions. FPT Industrial partners with relic hunter Andrea Bada
"As a child, I dreamt of being Indiana Jones and hunting for treasure, and for me this dream came true under water." This statement – which immediately generates admiration, as well as a little healthy curiosity – comes from Andrea Bada, one of the Mediterranean's best-known and most active relic hunters, with whom FPT Industrial is forging ahead with its strategy of supporting organizations, communities and professionals committed to protecting our planet and our seas.
Born in Turin in 1977, and a mechanic and car body repairman by trade, Andrea Bada has been a professional diver for over ten years. During that time, and helped by his team, he has pulled off a remarkable string of underwater finds in Italian seas and lakes, all at great depths.
The most notable include finding a Roman boat loaded with amphorae at a depth of 130 meters off the coast of Baratti, in Tuscany; diving to 118 meters in the dangerous waters of Lake Bolsena, near Rome, to identify the remains of the twin-engined German Junkers 88 which crashed in 1944; and solving the "mystery of Punta Manara" near Sestri Levante, in Liguria, with the discovery at a depth of 130 meters of the remains of the American P-47 Thunderbolt fighter plane shot down on 6 January 1945. His most celebrated and daring adventure to date, however, remains a dive of more than eight hours to a depth of 180 meters off Acciaroli, in Italy's southern Cilento region. This led to the discovery of the wreck of an American Liberty war ship, the William W. Gerhard, which disappeared in 1943 after it had been torpedoed by a German submarine.
You might be wondering about the reason behind this partnership. It's simple.
Not only does Andrea Bada use solely FPT Industrial-powered boats for his extreme adventures, as he needs a high-performance, thoroughly reliable vessel capable of reaching the nearest port at maximum speed in order to guarantee safety in the event of problems or issues, but above all the modus operandi of Andrea and his team involves never touching the wrecks they discover: they simply photograph, film and identify them in order to make the public aware of them, while ensuring complete respect for the crews who perished in these tragic accidents and the natural environment as it is reborn and takes over the wrecks.
"In these missions, nothing can be left to chance – from preparing physically and mentally through to obsessively taking care of your equipment. My team and I have chosen FPT Industrial marine engines because they lead the way in terms of performance, reliability, power output and noise, vibration and fuel efficiency. In short, we get everything those in our field could want to do our jobs as safely and comfortably as possible. But there's more besides. FPT Industrial's genuine and constant commitment to sustainability and environmental issues played a key role in our choice. Doing something for the future, starting today: that's FPT's approach, and it's one I share because it fully reflects my own attitude."
"Our range of inboard marine engines with power output from 85 to 1,000 hp means all marine professionals and enthusiasts, just like Andrea Bada, can always choose the most efficient and sustainable solution for any kind of mission," says Guglielmo Tummarello, FPT Industrial Marine Segment Director. "This extends to sport, enjoyment and work too, while always fully respecting the environment and all its wonders – even those that are really well hidden!"
Would you like to find out more about Andrea Bada and have him guide you in the discovery of some of these hidden wonders?
Click here to learn more about the adventures of the relic hunters:
Video 1.
Video 2.

Do you want to stay updated on all the news?