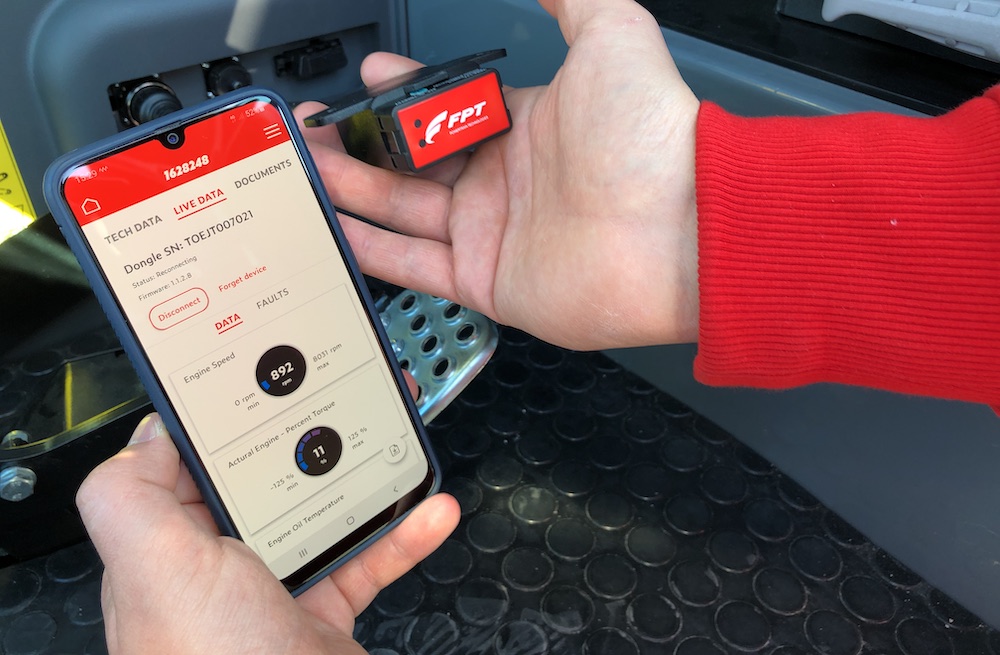 The MyFPT app is here: real time power and performance on your smartphone
Its name is MyFPT and, although still in its infancy, it boasts a whole lot of features. It can, for example, give you smartphone access to all your FPT engines and tell you in real time how they are performing on the road, in the field, on the construction site and even in the sea. All in all, it's a truly powerful app.
Especially considering it also contains all data, user manuals and maintenance plans not just of the engines but of all machines equipped with FPT Industrial engines.
What's more, in the unlikely event that something goes wrong, a simple tap on the app puts you in touch with the FPT Industrial Customer Center to request support and locate the nearest dealer. As well as these offline services, the app also features an advanced range of connected services; these are just as useful, and are aimed at those with responsibility for managing large numbers of engines and vehicles concurrently, such as fleet operators.
Connecting a Bluetooth dongle to the engine's diagnostic port allows you to perform a real time "health check up" of every engine registered on the app. This means you can receive live data on the engine speed, working temperatures, fluid levels and fuel consumption, turning your smartphone into a fully-fledged "control room". In the event of faults or malfunctions, the relevant codes are immediately sent to the Customer Center. This automated process minimizes diagnostic times and the resumption of full working operation, either by following the processes suggested or by making use of the support service as required.
The app, which was designed and developed with the invaluable contribution of CNH Industrial's Digital Hub, was launched in July 2020 on App Store and Google Play and is updated on an ongoing basis. It is free but requires registration to access all the services included. Opening the door to total real time connectivity, the Bluetooth dongle is on sale through the FPT dealer network and is currently available in: Albania, Andorra, Austria, Belgium, Bulgaria, the Czech Republic, Denmark, Finland, France, Germany, Ireland, Italy, Luxembourg, Monaco, the Netherlands, Norway, Portugal, the United Kingdom, San Marino, Slovakia, Spain, Sweden and Switzerland (it will be available in Brazil and the United States by 2021).
Do you want to stay updated on all the news?