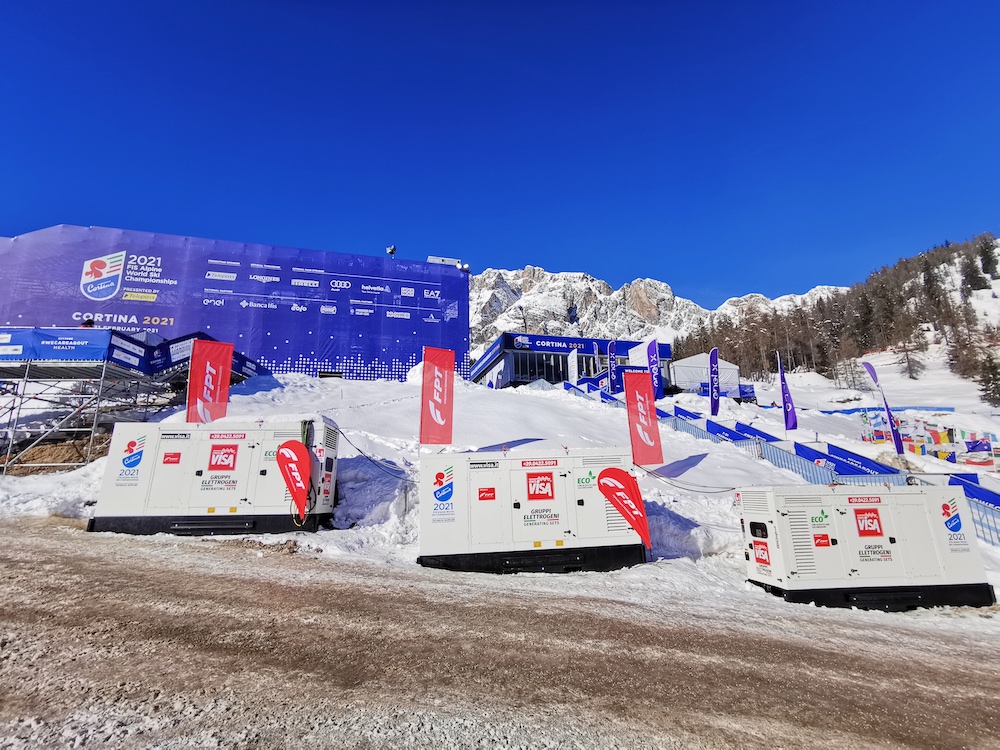 PURE ENERGY: FPT INDUSTRIAL POWERED VISA SPA GENERATORS LIGHT UP THE CORTINA SKIING WORLD CHAMPIONSHIP
Snow. Sun. Crisp air and an electrifying atmosphere. And, naturally, great champions who competed for victory and glory in just over a minute on extremely difficult slopes.
In a nutshell, this is the 46th World Skiing Championship that was held in Cortina D'Ampezzo (Italy) from 8 through 21 February, organized by the International Skiing Federation (Federazione Internazionale di Sci - FIS). Ensuring a further charge of clean, reliable and winning energy for all the participants of the event was official technical supplier, Visa Spa, with its 50 FPT Industrial powered generators. Leader in designing and manufacturing high-tech generators and power stations, and operating in the market successfully since 1960, Visa SpA has collaborated with FPT Industrial for over 40 years; a partnership solidly founded on common and shared values: reliability, respect for the environment, the strictest emissions regulations and international quality standards, 100% "Made in Italy" production and technological leadership. And these values had their chance to shine from the official opening of the event on 7 February, when the FPT Industrial powered Visa SpA generators kicked on immediately to solve an emergency situation. In fact, a super-generator was used to power the medium-voltage transformer near the Rumerlo finish area, close to the Tofana Lounge, which had stopped working due to a transformer fault. The quick response guaranteed correct back-up of the power grid, allowing for normal and uninterrupted power to all the services connected to the line. The entire opening ceremony, held in extreme weather conditions due to heavy snow and driving rain, was powered by the FPT Industrial powered Visa SpA generators: 2 parallel-mounted container version units for TV broadcasting, lighting and the stage, plus another 2 units, also parallel-mounted, used to support the worldwide broadcast event's services: because the show must go on! Placed perfectly in Cortina's Alpine scenery, thanks to their compact design and extremely low pollutant and noise emission levels, the FPT Industrial powered Visa SpA generators feature the most advanced control devices which allow automatic start and stop, as well as parameter verification and diagnostics with constant feedback on the status of the machinery. Furthermore, the Visa Spa and FPT Industrial "national team" was constantly "on the slopes" to ensure service to the systems throughout the entire World Championship period, monitoring the process and ready to respond if needed.
Do you want to stay updated on all the news?