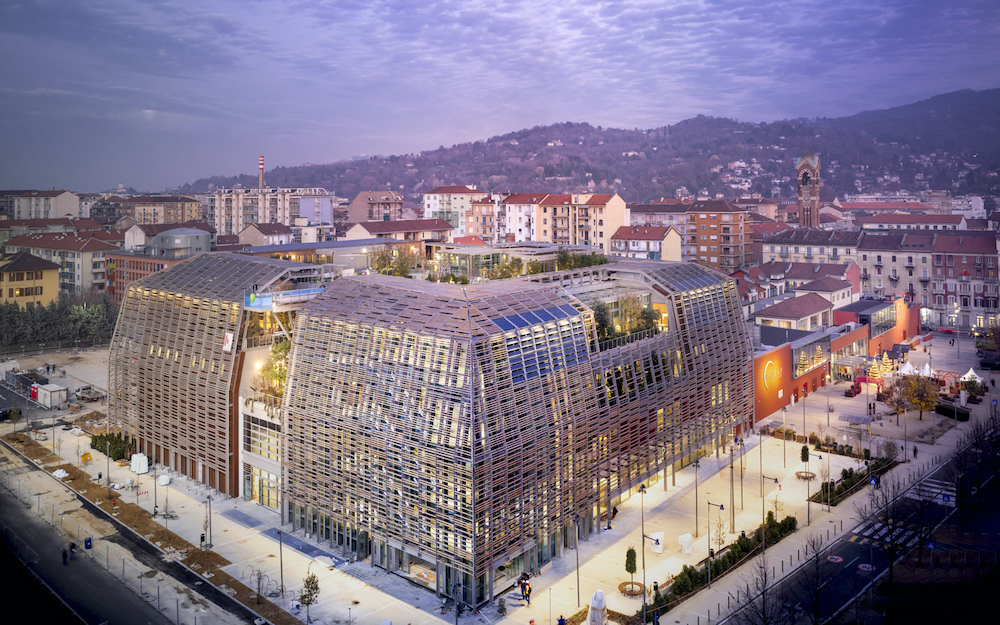 FPT INDUSTRIAL ALONGSIDE GREEN PEA, THE FIRST GREEN RETAIL PARK IN THE WORLD
FPT Industrial has always valued sustainability and the transition towards an increasingly more sustainable energy model: this is why the brand decided to team up with Green Pea, the first Green Retail Park in the world, located in Turin.
In this space, born out of an idea by Oscar Farinetti and built entirely with recycled and recyclable materials, the concepts of "sustainable consumption" and "ethical supply chain" are represented. Visitors will be able to take advantage of 15,000 square metre of area on five floors where they can purchase environmentally low or no impact products and services. In fact, there are 66 stores, a museum, three food courts, a pool a spa and a club dedicated to creative leisure. In addition to the commercial part, Green Pea also offers experiences, events and all the necessary and available services to live Green.
FPT is also a key player in the Green Pea Discovery Museum area, where they interpret the concept of sustainable development with an actual suspended installation of the Cursor X, symbol of the engine of the future, designed for Planet Earth. This is an educational area where the general public can come even closer to the issues of renewable energy, sustainable consumption and acting in respect of the environment. Thanks to four screens, visitors can learn about the genesis, the peculiarities and the uses of the engine, along with its primary characteristics, the "4 Ms": Multi-power, Modular, Multi-application, Mindful.
For the brand, being sustainable translates into studying increasingly greener drive solutions, but also guaranteeing a virtuous supply chain and production process. The commitment does not end here. In fact, FPT Industrial is active in environmental sustainability projects such as 'A pesca di Plastica' (Fishing for Plastic), thanks to which more than three tons of plastic have been collected in the Adriatic sea, or Urban Forestry, with which 1,000 trees were planted in Turin to revive a city forest. "The partnership with Green Pea is another step in our path toward an increasingly more complete and integrated sustainability: a sustainability capable of meeting the needs of the inhabitants of Planet Earth, without impoverishing her resources", says Carlo Moroni, FPT Industrial's Head of Communication.
Do you want to stay updated on all the news?