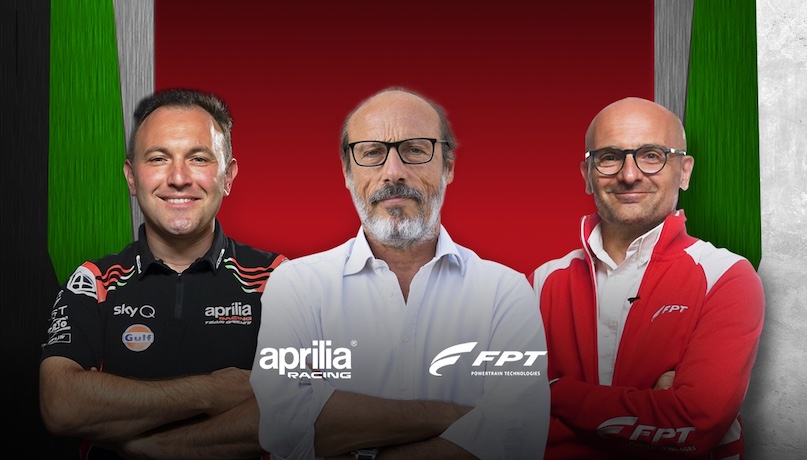 THE FPT WEBCAST PLATFORM HAS BEEN LAUNCHED: DOUBLE INTERVIEW BY GUIDO MEDA WITH FPT INDUSTRIAL ENGINE EXPERTS AND APRILIA RACING
Who better than Guido Meda could have launched a new space dedicated entirely to high performance engines? And it was precisely the renowned journalist, television host and, more importantly, MotoGP commentator, who launched the "transmission" of FPT WEBCAST, the new digital platform created by FPT Industrial to give the public, motorheads, dealers and customers a way to get together in a new and safe manner, and to share information, ideas and passion using the "new normal" digital methods. The opening show on September 21st was definitely exciting: a double, simultaneous interview with two great FPT Industrial engine experts and Aprilia Racing.
These two brands, bound by a solid partnership and a common passion for competition, speed and engine performance, not to mention great efforts in the technological search for excellence, were represented in the interview by two true champions: Alessandro Mazza, marine engines and power generators manager for FPT Industrial, and Paolo Bonora, Race Manager of Aprilia Racing MotoGP. Bombarded by a barrage of questions from Guido Meda, the two technicians revealed numerous and, at times, previously unknown facts from behind the scenes in the motoring sector, giving maximum power enthusiasts a chance to discover how two apparently distant worlds – the world of high performance engines that race on MotoGP circuits and the world of industrial engines that equip boats or tractors – have a lot in common in terms of high-level technology.
"Thanks to the words of the two protagonists of the double interview, I was able to discover that these two motoring sectors are very close. It's always exciting to bring two people and two worlds together that always push to the limit to come first: at the finish line, in developing an ingenious idea, in excellence", Guido Meda commented before heading off toward a new circuit and new thrills.
Exactly the type of thrill that the FPT WEBCAST platform intends to offer its public through events which, although highly diverse, share a passion for engines, sustainability and power; the slogan also sums up the intention and the potential: "Power to connect".
Developed in such a way that would guarantee immediate and "user-friendly" use, FPT WEBCAST is an ideal "place" where live events, innovation talks, webinars, virtual tours, podcasts and much more will be available.
Did you miss Guido Meda's interview? Don't worry, you can find it at this address.
Do you want to stay updated on all the news?