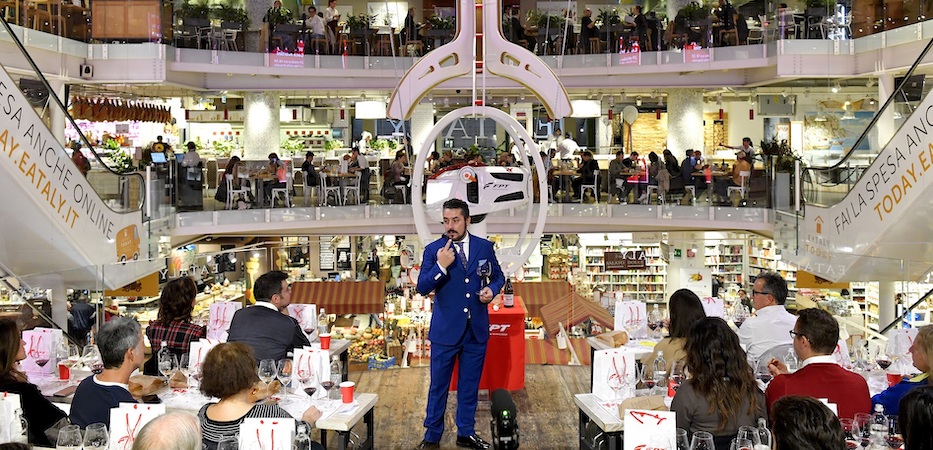 FPT INDUSTRIAL AND EATALY CELEBRATE A SUSTAINABLE AGRICULTURE
October marked the beginning of a partnership between FPT Industrial and Eataly, which aims to promote a sustainable agriculture. While FPT leads the path in terms of alternative propulsion systems for agricultural equipment, Eataly helps farmers sell products that represent the Italian food excellence. To celebrate this collaboration, FPT Industrial hosted two events at the Eataly Smeraldo store, in Milan.
The first one was a cooking show with Benedetta Parodi, presenter of BakeOff Italia, creator of TV shows "Cotto e mangiato" and "I Menù di Benedetta", and author of several best-selling books. She prepared a typical Italian dish of orecchiette ai 4 pomodori and highlighted the importance of FPT engines, which helped taking the products of the recipe from earth to table in a sustainable way.
Since October was the wine month at Eataly, nothing seemed better than organizing a wine tasting. FPT's special guest for this event was Luca Martini, nominated best sommelier in the world in 2013. Martini himself selected the wineries and labels for the tasting, focusing on how the red color of the wine and of FPT evokes the passion that moves producers to respect the environment.
The Smeraldo store also played host to Cursor X, FPT's sustainable engine concept that represents its vision for the future. The engine was set up in a special grape-themed framework suspended from the middle of the store's ceiling. Thematic areas dedicated to four typical products of Italian cuisine (wine, pasta, tomatoes and cheese) gave sequence to the story of the food chain engine to all visitors.
Do you want to stay updated on all the news?