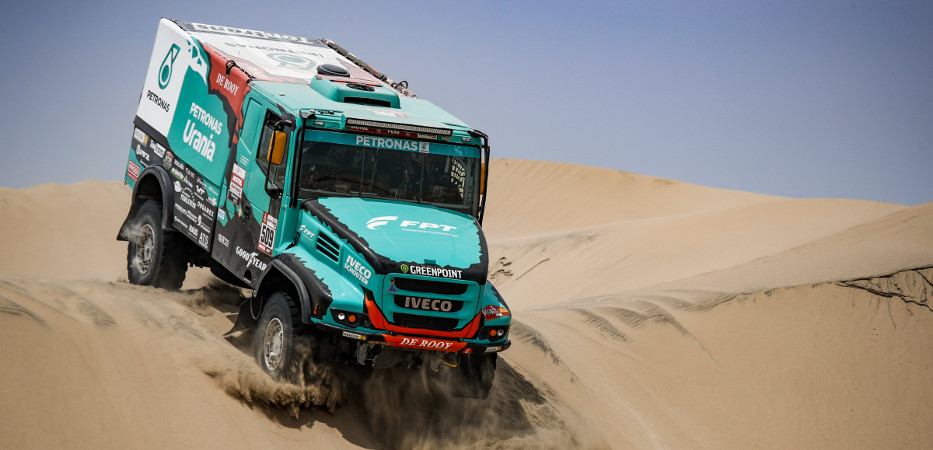 FPT INDUSTRIAL ON THE DAKAR 2019 PODIUM
For yet another year, FPT Industrial was the beating heart of Dakar, not only equipping the four trucks of the Petronas Team De Rooy IVECO with its Cursor 13 engines but leading the team to the top 10 in the race.
The 41st edition of the world-famous rally crossed 5,000 km of Peru in ten stages across dunes, sand and rocky terrain. By crossing the finish line of one of the most extreme racing competitions, FPT Industrial demonstrated, once again, durability, reliability and power of its engines.
In the general classification, Gerard de Rooy, two-time winner of Dakar, arrived in third place, Federico Villagra closed the rally just after at fourth place, while Van Genugten and Van den Heuvel finished respectively at seventh and tenth place.
The Brand engine was conceived to deliver high performance and top efficiency, all while respecting the environment, in industrial applications, but it has also proven itself in racing. The IVECO vehicles' Cursor 13 engines were especially engineered for such a challenging rally, able to reach maximum power of 1,000 hp. The customization was undertaken at the FPT Industrial Arbon Research & Development center and an FPT specialized technical staff supported the team during the entire rally.
Do you want to stay updated on all the news?