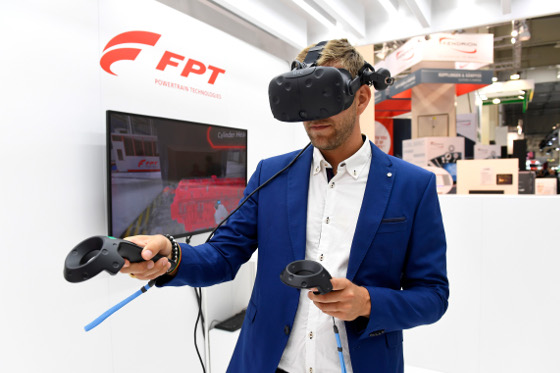 CUTTING-EDGE TECHNOLOGY ATTRACTS VISITORS TO ENGAGE WITH THE NEW CURSOR 13 NG ENGINE
To reaffirm its leadership in the field of Natural Gas technology, FPT Industrial has also presented its Cursor 13 engine elaborated for the first time for coach applications. Using virtual reality headsets and controllers, visitors could explore the inside and outside of the new product, interacting with its main components, and discovering its performance by turning on the engine.
Through this innovative experience, FPT Industrial demonstrated the engine's attributes: power of up to 460 hp at 1,900 rpm, torque up to 2,000 Nm at 1,100 rpm and a new oil sump and front end specifically designed to satisfy all application needs. All of these contribute to classify the Cursor 13 as the most powerful 100% Natural Gas engine on the market.
The technology used by FPT also reduces Particulate Matter (PM) in 98%, NOx in 48%, and reaches fuel cost savings up to 40%, all compared to Euro VI compliant diesel engines.
Do you want to stay updated on all the news?