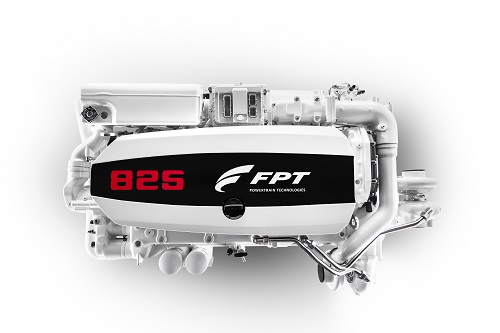 FPT INDUSTRIAL DISPLAYS ITS TECHNOLOGIES DEDICATED TO MARINE APPLICATIONS
As the good season approaches, boats start to sail more often and visitors crowd into all the fairs dedicated to the marine world. After the Miami Boat Show – which attracted almost 100.000 people – it was time for Europe to gather sailors, brands and passionates together. In May, two european events attracted thousands of people to discover the best of the sea: the Viareggio Rendez-Vous and Navalia.
On the Tuscan coast, in Viareggio, FPT Industrial showcased its technologies together with other 170 exhibitors. On this occasion, FPT Industrial was present with its dealer Naval Motor Botti, who has been a strong FPT Industrial partner for many years. At Naval Motor Botti's booth FPT Industrial displayed one of its top rating engines: the Cursor 13, that can be applied to both pleasure and commercial applications. Delivering a max power of 825hp, the Cursor 13 provides many benefits for the final user: performance, low fuel consumption, low maintenance costs (with oil change intervals up to 600 hours) and a low environmental impact. The Cursor 13, in fact, presents not only reduced emissions but also lower vibration and noise.
If Viareggio welcomed more than 18.000 people, Vigo – in Spain – opens its doors to the seventh edition of Navalia. Last year, this three-day event greeted more than 25.000 people, and aims to do even better this year. Here, FPT Industrial is present with another dealer, Bimotor, which has a 100-year long history and has been working with FPT Industrial for many years. This time the engine on display will be a N45, which is both for marine and professional applications. Belonging to the renowned NEF Series, the N45 offers all the state-of-the-art technologies that made this family famous. With a 4.5-liter displacement, the N45 provides a power of 100hp, offering both a low fuel consumption and low maintenance costs. Furthermore, the oil service intervals are up to 600 hours – allowing a minimization of downtime.
​
Do you want to stay updated on all the news?