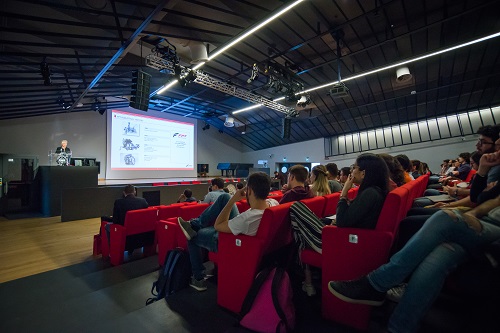 ANNALISA STUPENENGO TALKS ABOUT THE FUTURE OF MOBILITY WITH THE ENGINEERS OF TOMORROW AT THE POLYTECHNIC OF TURIN
A crowded Aula Magna at the Polytechnic of Turin welcomed FPT Industrial Brand President Annalisa Stupenengo. The room was full of students, both in the audience and on the stage, Stupenengo is a Polytechnic alumni herself. The event was a part of the meeting series – 'Top Experiences' – organized by the Polytechnic with the aim of connecting students and top managers, entrepreneurs and innovators so that they can listen and learn about their experiences and testimonies.
Stupenengo discussed FPT Industrial's vision, focusing on the challenges the company faces every day. Of course, one of the main topics was the effort FPT Industrial is making in order to gain a more sustainable mobility. That's why she emphasized FPT Industrial's role in Natural Gas technologies, a field in which FPT Industrial has been working in for over 20 years. This great know-how brought about the birth of great engines such as the Cursor 9 NG and most recently, the Cursor 13 Natural Gas, the most powerful 100% Natural Gas engine available on the market today. These engines bring more benefits, such as the reduction of pollutants, with a reduction of CO2 emissions near zero when using biomethane. This technology is an economical and ready-now solution, that everyone can use while other forms of sustainable mobility are under development. The hybrid technology, for example, which FPT Industrial has already implemented, is a valuable solution that allows entrance into zero-emission areas, which are becoming more common in many cities every day.
The students proved to be very attentive and interested in a field they're already studying during their classes, and asked many questions about the industry and how to get into the job market successfully.
​
Do you want to stay updated on all the news?