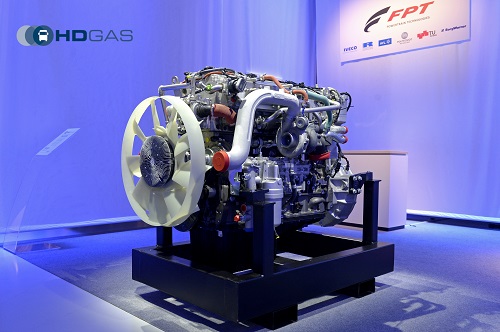 FPT INDUSTRIAL HOSTS HDGAS PROJECT FINAL EVENT TO DISCUSS RESULTS FOR NATURAL GAS TECHNOLOGIES
New concepts, air quality improvement and lower greenhouse gas emissions. These are just some of the results of HDGAS, a project that brought twenty partners together for the last 36 months in order to find effective solutions for a sustainable mobility.
FPT Industrial welcomed them all to the Industrial Village on April 11th for an event that gathered the industry's excellence in Gas technologies, making it a global reference for the day. During the event, partners discussed about results of HDGAS project, which stands for "Heavy Duty Engines integrated into Vehicles" and belongs to the "Horizon 2020" programme, the biggest European Union Commission project for Research and Innovation. During the event, visitors, panelists and brands could discover not just the innovations behind the project but also other technologies that gravitate around the Natural Gas world, as well as a full afternoon of test drives of NG engines on the track. The project participants are OEMs, engineering service providers, universities and research institutes from nine countries, who collaborated together to develop advanced non-hybrid powertrain concepts for heavy-duty vehicles (either dual-fuel or optimized for pure natural gas operation), complying with Euro VI emissions standards and meeting the current CO2 or greenhouse gas emission targets.
In order to fulfill this goal, partners were divided into six sections, with FPT Industrial being the brand leader of section 4, dedicated to the low pressure direct injection spark ignited engine. FPT Industrial's challenge was to develop two versions – stoichiometric and lean burn – of a new direct positive ignition Natural Gas engine.
In order to succeed, FPT Industrial chose Cursor 13 Natural Gas engine as its starting point for the research. Then a new feature – never tried before on a Heavy Duty engine – was added to it, and it included a combustion system, a fuel direct injection system, a Corona ignition system, a variable valve timing and an hydraulic valve lash. Thus FPT Industrial assembled three prototype engines: one was delivered to Iveco for the installation on a demonstrator vehicle, and another to Ricardo for the installation of the lean burn version at the test bench. The last one remained with FPT Industrial, which installed the stoichiometric version of the prototype at the test bench.
FPT Industrial's stoichiometric engine produced great results that went beyond expectations. The targeted performance (2,200 Nm @ 1,000 rpm – 370 kW @ 1,900 rpm) was reached, as well as the 10% CO2 reduction compared to 2013 state-of-the-art engines, while the fuel consumption proved to be well below the target of 200 g/kWh.
Due to these encouraging results, it seems that the right path for more sustainable mobility has been drawn and is a major opportunity both for the OEMs – that will find products as competitive as diesel engines –, and for the heavy duty transport sector, that will no longer contribute to climate change.
Do you want to stay updated on all the news?