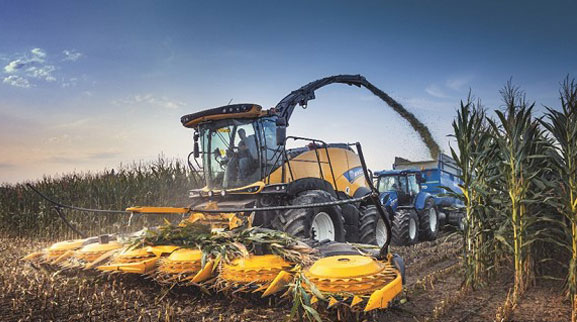 FPT INDUSTRIAL EXHIBITS ITS TECHNOLOGIES IN NORTH AMERICA
It's been a busy time for FPT Industrial. North America was the scenery of a series of fairs where FPT Industrial collaborated with New Holland in order to show the latest technologies and applications in the Agricultural landscape.
The first stage was in Tulare, California, for the World Ag Expo, held from February 13thto 15th. Here, 1,50​0 exhibitors presented their products and FPT Industrial showcased its top-of-the-range engine in the New Holland booth. The V20 engine, that can deliver a maximum power of up to 910 hp @ 1,800 rpm and a maximum torque of up to 4,100 Nm @ 1,500 rpm, was both on display and mounted on the New Holland FR 920 Forage Harvester. The V20 engine is, in fact, specially dedicated to harvesting applications and is also best-in-class for power-to-weight ratio and for compactness in its category.
What makes the V20 engine special is also its fluid consumptio​n, which is low, especially when considered its power. This is possible thanks to the Common Rail Injection System and the Electric Control Unit, which is the same as the one used for FPT Industrial Cursor engine family.
Furthermore, FPT Industrial also equipped tractors and boom sprayers at Farm Machinery Show, in Kentucky. From February 14th to 17th, New Holland exhibited many products powered by FPT Industrial engines. The boom sprayer was equipped with the NEF 67 engine, an EGR-free, top-class-performance engine. Together, there was the N45, which still belongs to the NEF Series, a reliability-proven family with more than 1.6 million engines produced. The N45 powers the T6.175 Dynamic Command tractor - which was also awarded as "Machine of the Year" during the last edition of Agritechnica – and, as well as the NEF 67 engine, promises up to 600 hours oil service intervals. As for the tractors, New Holland showed even the T5.120 Electro Command, equipped with FPT Industrial F5 engine, which confirms itself as the best fit for light applications, delivering high performance with low operating costs in a compact and flexible solution.

February was not only the month of Agriculture applications: FPT Industrial reaffirmed its role as a main marine player at the Miami Boat Show. Here, it supported Motor-Services Hugo Stamp, Inc (MSHS), enhancing a collaboration that saw the two brand partnering even last year during both Ft. Lauderdale and Miami Boat show.
​
Do you want to stay updated on all the news?