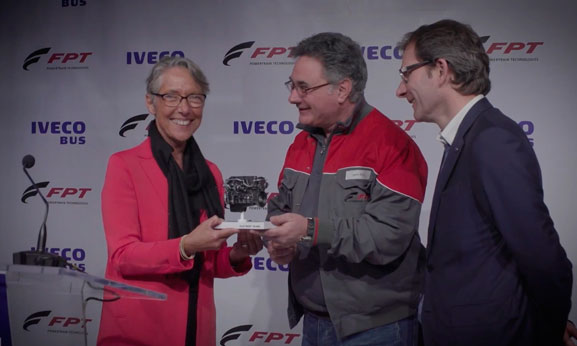 FPT INDUSTRIAL WELCOMES FRENCH TRANSPORT MINISTER AT BOURBON-LANCY PLANT
Sustainability, innovation and ideas for the future of transport. On January 11th, FPT Industrial welcomed Elisabeth Borne, the French Minister of the Ecological and Solidarity-based Transition in charge of Transport, to its plant in Bourbon-Lancy, France. The visit was a chance to further discuss the main role of Natural Gas, a technology in which FPT Industrial is expert. The Bourbon-Lancy plant was the perfect location to host this event: here, in fact, FPT Industrial produces not only the whole Cursor Natural Gas line-up, such as the Cursor 9 and Cursor 13 NG, but also pays a lot of attention to various projects concerning biodiversity and sustainability.
The minister visited the plant to meet Leonardo Grillo, the director of the plant, and the employees, while learning about the entire plant production process, which achieved Silver level in the World Class Manufacturing method, which was awarded to Bourbon-Lancy for its efforts and quality. During the day, the minister also met many major players from the country's industrial natural gas, biomethane and transportation sectors in order to discuss what still has to be done to further improve the Natural gas market, and what consequences it will have on the economy and the environment.​
It was a day full of events, from the Minister's speech to the employees and attendees to the plant's visit and, finally, the Minister receiving a jar of honey produced at the Bourbon-Lancy facility. This activity is, in fact, part of a greater sustainability project that involves all of the plant's surroundings, including even its shrubs and hedges, and a long process of the Loire's recovering to reuse its water that contains production waste in the production processes.​
Do you want to stay updated on all the news?