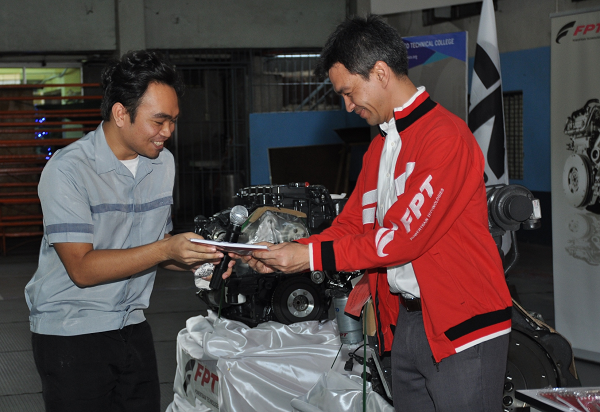 FPT INDUSTRIAL SUPPORTS THE EDUCATION IN THE PHILIPPINES WITH THE DONATION OF TWO NEF ENGINES
FPT Industrial keeps rising engineers and trained mechanics all around the world. Students in the Philippines can now enjoy two new engines that FPT Industrial donated to the Don Bosco Technical College (DBTC) of Manila.
The donated powertrains are the N45 ENT and N45 MNT compliant with Tier 3 / Stage IIIA regulations. They will serve the Technical Vocational Education and Training (TVET) Program and the Mechanical Engineering Graduation Program, running at the DBTC in Mandaluyong City, and their arrival was welcomed by almost 200 students during an handover ceremony at the beginning of December.
FPT Industrial's support is not limited to the engines, but it extends to professional and educational programs. The students, in fact, will be also provided with training materials and servicing support and 60 of them will have the chance to work as highly qualified personnel and engineers in the automotive and industrial machinery sectors every year. A great opportunity for those whose dream is to work in these industries.
"We take pride in supporting the professional growth of these students. With these two engines the trainees will gain the correct skills to work on the Common Rail injection systems through the engines from the NEF family" said Michelangelo Amelia, FPT Industrial Country Manager for South East Asia and China. The N45 ENT and the N45 MNT engines, in fact, belong to the NEF Series, which is the most compact, efficient and cost-effective solution in all applications. This engine family was developed in order to reduce the TCO and the results are maximum durability, long maintenance intervals, reduced fuel consumption and over 1.6 million units produced since 2001.
According to Demetrio M. Carmona, Vice Rector at the Don Bosco Institute, the students will have the chance to discover and get in-depth knowledge of these powertrains in the Automotive Laboratory at DBTC, confident that "they will contribute to the students' skills upgrading process as professionals in the heavy equipment services industry".
Do you want to stay updated on all the news?