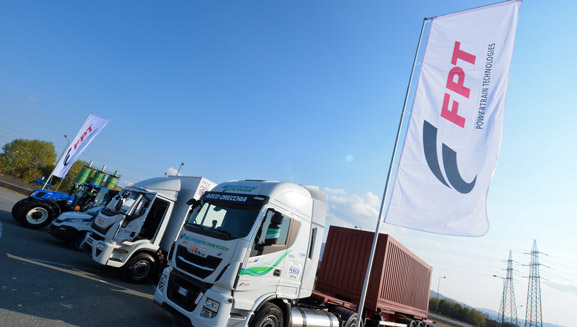 NG DRIVING EXPERIENCE
​​During FPT Industrial Tech Day, guests had the chance to try first-hand Natural Gas vehicles, testing them on the CNH Industrial Village Test Track, and verifying themselves their perks. Together with its sister brands, FPT Industrial offered a wide range of vehicles and engines, available for the test drive, confirming its efforts and long-lasting experience in Natural Gas technologies.

On the track guests could try the Cursor 9 NG, the N60 NG and the F1C NG. The Cursor 9 NG was mounted on an Iveco Stralis LNG, offering power up to 400 hp @ 2000 rpm, and torque up to 1700 Nm @ 1200 rpm. The Cursor 9 NG also grants emissions lower than Euro VI limits. Cursor 9 NG uses FPT Industrial's patented stoichiometric combustion, doesn't need EGR and SCR and relies on a 3-way catalyst.

The N60 NG, instead, was mounted on an Iveco Eurocargo CNG. Visitors were able to test the most compact, efficient and cost-effective engine solution in the 6 to 18 tons truck, bus and coach category. The N60 NG is a 6-cylinder, 6-liter engine and can reach a power peak of 204 hp @ 2700 rpm, and a torque of 750 Nm @ 1400 rpm, with any load or route. Compared to its Diesel version, the N60 NG grants a fuel cost savings up to 30%, and the oil change intervals can reach up to 30,000 Km.

On track there was also the F1C NG, the best-selling Natural Gas engine for Light Commercial Vehicles transport. It was mounted on an Iveco Daily Hi-Matic Natural Power, has a 3 liter displacement and delivers 136 hp of max power and 350 Nm of max torque. Compared to the Diesel version, the Natural Gas engine ensures the same robustness and reliability, while allowing cost savings up to 35%.
Do you want to stay updated on all the news?