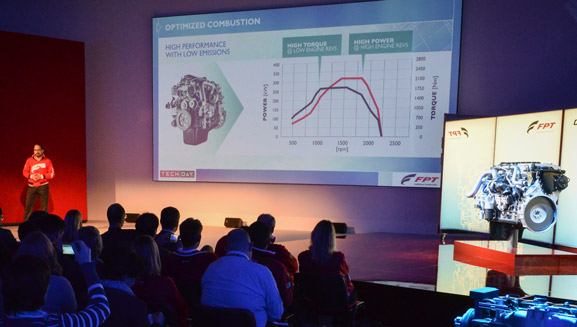 FPT TECH DAY IN 90 SECONDS
​On October 30th 2017, FPT Industrial welcomed 40 journalists from around the world to experience innovations made in Natural Gas, at the headquarters in Turin. At the event, the Cursor 13 NG was launched with an unveiling that surprised everyone. The morning concluded with a Talk Show where important players of the Natural Gas world discussed the future's challenges and the sustainable world FPT Industrial is creating. The Talk Show caught everyone's attention, reaching thousands of people on social media through the live streaming of the event.
FPT Industrial's engineers. Inside a Tech Cube installed especially for the occasion, they discovered our most innovative technologies, including on-going projects, concept vehicles and a virtual reality experience. They also had the chance to test first-hand some of our sister brands' vehicles, such as the IVECO Stralis and the New Holland T6 prototype - all rigorously fueled with Natural Gas.​
​
Do you want to stay updated on all the news?