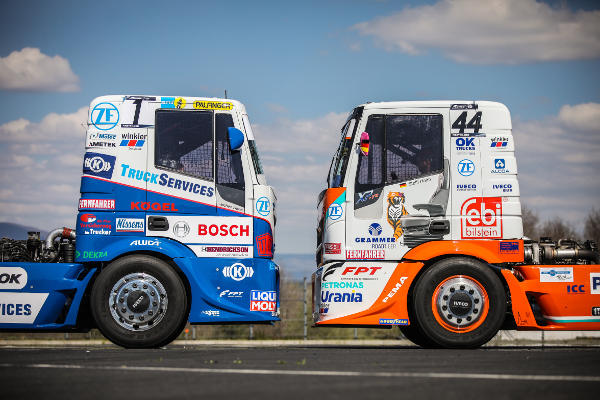 POWERING THE FIA EUROPEAN TRUCK RACING CHAMPIONSHIP
Call us motorsport enthusiasts, but our engines are also developed to win on race tracks! FPT Industrial's current challenge is the 2019 FIA European Truck Racing Championship (FIA ETRC), sponsoring 'Die Bullen von IVECO' - the German teams Schwabentruck and Hahn Racing.
Both teams are competing with IVECO Stralis trucks powered by FPT Industrial Cursor 13 engines especially prepared for the race, delivering an impressive power of 1,180 hp and torque of 5,000 Nm.
For the second year, Steffi Halm is behind the wheels of the Schwabentruck team and the only woman in the competition, with a reputation as a quick and intelligent driver. In the meantime, the Hahn Racing team is led by Jochen Hahn, a driver with a solid experience, five titles and one of the favorites to be champion.
The first round of the championship took place on May 25-26 in the city of Misano Adriatico, Italy, where 'Die Bullen von IVECO' conquered the first place in the team results. From the four races of the weekend, Jochen Hahn arrived first in two and secured another podium in third place. Steffi Halm was also at one podium as third place and got the fifth place in other two races.
Divided in eight rounds, the championship will also pass through Hungary, Slovakia, Germany, Czech Republic, Belgium, France, and lastly, Spain.
FPT Industrial is also powering IVECO trucks for two other teams in the championship, Reinert Racing Gmbh, led by Rene Reinert, who won first place in race 2 at Misano Adriatico, and the new Don't Touch Racing, with André Kursim.
Do you want to stay updated on all the news?