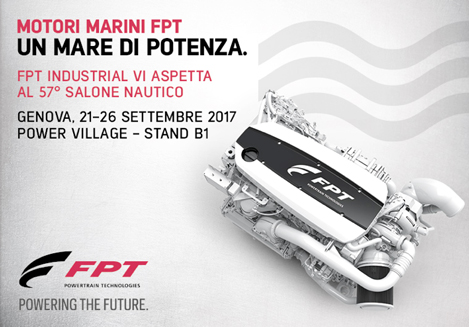 GENOA BOAT SHOW 2017
From the 21st to the 26th of September, FPT Industrial is at Genoa Boat Show (Piazzale Marina - Power Village - Stand B1). Here FPT Industrial has presented​ its renewed and expanded marine range, including the new N67 570 EVO, the C90 650 and the C13 825. The focus is on the last EU RCD Stage II (European Recreational Directive, which has become mandatory in the last January) and US – EPA Tier 3 (United States Environmental Protection Agency). These two are the latest and most representative certifications for marine engines in the FPT Industrial power range from 230 to 825 hp.

All products from FPT Industrial new marine line-up including the new entry in the NEF family, are featured with state-of-art diesel technology: they mount the second generation Common Rail and equip the electronic control. Engines on display feature 4 valves per cylinder, waste-gate water-cooled turbocharging,rear gear train timing system, ladder frame cylinder block and other characteristics that ensure a lot of perks to customers and end-users. Among these: high performances in maximum power and torque density, a considerable reduction in fuel consumption, enhancing lightness and compactness.

Furthermore, FPT Industrial marine engines have less impact on the environment lower noises, vibrations and also exhaust gas emissions. All this while maintaining an innovative design and easy maintenance. Thus, FPT Industrial engines on show are classified among the best-in-class for performance, lightness and compactness. They ensure, in fact, among the best power and torque density, the best power/weight ratio for boat better performances top speed and planing) and an incredible compactness that guarantees wider space availability on board.
Do you want to stay updated on all the news?