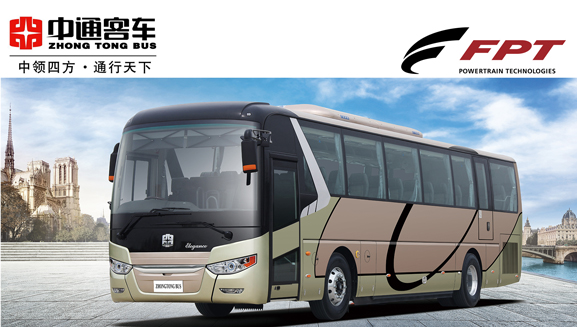 FPT INDUSTRIAL AND ZHONGTONG TOGETHER FOR HONG KONG
The first intercity bus compliant with Euro VI in Hong-Kong. This is the goal reached thanks to the collaboration between FPT and Zhongtong Bus Holding Co. Ltd. These buses will be powered by the Cursor 9 engine, which are equipped with the HI-eSCR technology, a patented FPT Industrial's breakthrough after-treatment system.

The six-cylinder in-line Cursor 9 engine has a power rating of 265 kW and is Euro VI Step A/C compliant. It is best-in-class for power density, allowing an impressive 11 liter performance in a 9 liter package. Thanks to DPF with passive regeneration, FPT Industrial's Cursor 9 is best-in-class also for fuel consumption reduction. Furthermore, a longer oil drain and DPF service intervals reduce the downtime of the vehicle and the absence of EGR ensures a longer life to the engine, optimizing at the same time its installation.

These new buses enter in the vast fleet of Zhongtong Bus Holding, which includes tourist, school and luxury buses.
Do you want to stay updated on all the news?