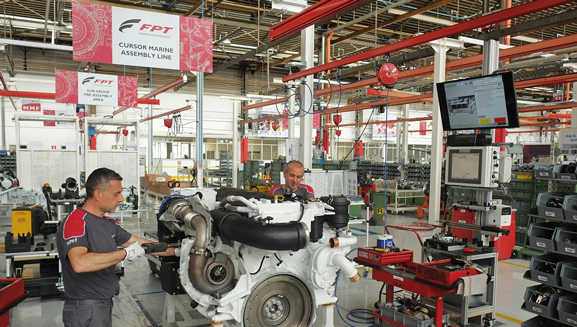 INSIDE THE PREGNANA PLANT: FPT INDUSTRIAL'S MARINE AND POWER GENERATION ATELIER
This year, thousands of engines will leave the factory gate at the FPT Industrial plant in Pregnana Milanese. The plant is one of the most important in Northern Italy for its approach to the production: in fact, every engine is adapted to the most varied needs of truly special customers. Pregnana's staff is principally focused on the customization of engines, with particular attention to marine and power generation applications.

More than 150 employees work here, under the direction of Sara Bonacci, the first woman to lead a plant within CNH Industrial. In conjunction with her arrival, a few months ago, the process of adopting the World Class Manufacturing (WCM) Work Method has begun: a challenging program for a plant with Pregnana's characteristics, which include limited production, and a vast range of products (it operates on engines ùranging from 85 to 850 hp built in the Company's various plants, from Turin, Italy to Foggia, italy to Bourbon-Lancy, France) for the more diverse jobs. Each adaptation is performed by one or two workers who complete all the steps from start to finish.

The average age of Pregnana's employees is 51, there is a lot of experience and yet the WCM application is bringing obvious improvements. In the past, for example, employers had to spend time looking for the materials they needed or asking forklift drivers for every stock item; now everything arrives directly at their stations on special trolleys. The workshop now looks more like an atelier than an engine plant: also thanks to the WCM program which puts cleanliness and comfort at its core.
Do you want to stay updated on all the news?