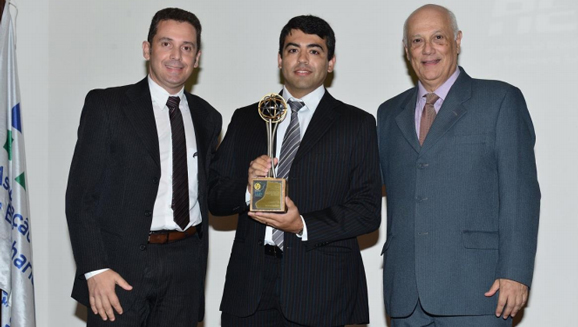 A NEW ENVIRONMENTAL AWARD
Yet another environmental achievement for FPT Industrial, confirming its attentiveness to the future of the planet: this time the prize comes from Brazil, where the brand has conducted a research project on API CJ-4 oil. This led to us winning the AEA Award, conferred by the Brazilian Automotive Engineering Association to companies that have distinguished themselves as forerunners in the environmental field. FPT Industrial won in the "Technology" category.

The research project involved engineers at FPT Industrial's plant in Sete Lagoas, in collaboration with Petronas. This oil, introduced in the Latin American market, is used in low sulfur diesel engines that are preferred for their durability and performance.

Experiments have been conducted on sugarcane harvesters, demonstrating that technological innovation has generated benefits for both agricultural and environmental purposes: the oil change is, in fact, 30% less in Cursor 9 Mar-I / Tier3 engines. By switching to this new product, oil exchanges decreased by seven to five one change for every 500 hours of use) during the harvesting period. At the end of the tests the engines were disassembled, and the findings revealed that there was no negative impact on their life cycle.

The results of the study have shown that sugarcane harvesters have spent more time on crops, increasing their efficiency and ensuring better productivity. This recognition comes three years after the brand received the Honorable Mention for a study on the "Performance and Emissions of a Low-Hydrogen Engine". This constant commitment over the years confirms that FPT Industrial is not just a leading company in its field but is also focused on environmental issues.
Do you want to stay updated on all the news?