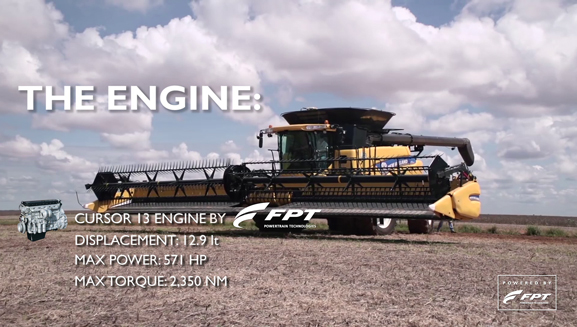 FPT INDUSTRIAL CURSOR 13 ON NEW HOLLAND'S CR 8.90 ACHIEVES A NEW WORLD RECORD
How many tons of soy can you harvest in eight hours? The answer is up to 439.97, according to a new world record set by New Holland with the aid of FPT Industrial's Cursor 13 engine. The goal, which recognized by the independent organization RankBrasil, was reached at Formosa Do Rio Preto in Brazil, by Charles Otto Greef, who drove the New Holland's CR 8.90, equipped with Cursor 13 MAR-1 by FPT Industrial.
The CR 8.90 has achieved this exceptional performance by collecting 4,886 kg of soy per hectare. A goal which was reached thanks to the robustness and reliability of the Cursor series, which offers the best performance in off-road applications such as large tractors, forestry equipment and, indeed, harvesting machines.
Available in four models, the Cursors have a six-cylinder design with electric injectors or a Common Rail system that ensures optimum combustion efficiency while maintaining low fuel consumption.
Specifically, New Holland's CR 8.90 Cursor 13 features a high pressure electric injector system and a fixed geometry turbocharger that delivers high power and couples with extremely competitive fuel economy.
Do you want to stay updated on all the news?