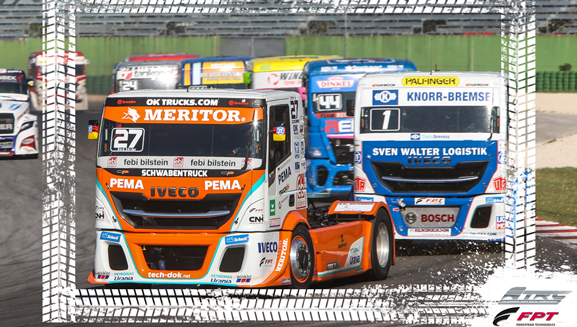 FPT INDUSTRIAL CURSOR 13: EMOTIONS ON THE TRACK
Red Bull Ring and Misano Adriatico: the first two events of the European Truck Racing Championship.

FPT Industrial is on the front line when considering applications for the racing world. FPT Industrial is active participant in this competition – equipping the Schwabentruck and Hahn teams, with three Cursor 13 enginesmounted in their Iveco Stralis trucks.

In the first weekend of the race (May 13th and 14th) the race took place in the Red Bull Ring in Spielberg, Austria. It was a great start for the defending champion Jochen Hahn, who won two races and obtained a third and a fifth place position in others. These performances enabled the Deutsch rider to close the first seasonal event at the top of the rider's list. The excellent weekend enjoyed by the teams supported by FPT Industrial was topped when Schwabentruck's Gerd Korber placed high in two races, allowing the teams to reach the top positions in the constructor standings.

FPT Industrial Cursor 13, designed and engineered specifically for the competition, can reach a maximum power of 1,100 hp and a maximum torque exceeding 5,000 Nm at 1,400 rpm, enabling vehicles to reach 160 km/h, the limit imposed by the FIA regulation. The engines FPT Industrial provides the two teams must be able to respond effectively in all climatic conditions and at any temperature, especially that of asphalt in the summer heat which often exceeds 35° degrees.

Cursor 13 is the best choice in terms of reliability and performance. The qualities were confirmed also in the second weekend of races, held in Misano Adriatico where Jochen Hahn, in Race-2, managed to cut the finish ahead of all competition. In Race-1 there was a great performance by Gerd Körber who, after the start from the last grid box, finished at seventh overall position, bringing important points to the constructors' rankings.

The next race will be held at the Nürburgring circuit, 70 km south by Bonn, on the weekend of July 1st and 2nd. It will be an exciting appointment with the ETRC. Stay tuned!
Do you want to stay updated on all the news?