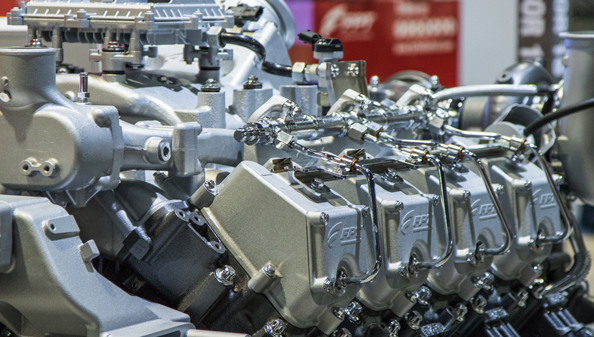 FPT V20: POWER WITHOUT COMPROMISE
The most compact powertrain in its class with a lean V8 (8 cylinders) architecture showcasing up to 910 hp thanks to the new Common Rail Injection system, an outstanding power-to-weight ratio, and optimal productivity thanks to high efficiency and regeneration free ATS.

Introducing the V20, FPT Industrial's most powerful top-of-the-range engine. Launched in its world preview, in Las Vegas at Conexpo 2017, this powertrain epitomizes "Power without compromise".

The FPT V20 is a 20-liter engine with a 90° V8 (8 cylinder) architecture engine, performs at a maximum power of up to 910 hp @ 1,800 rpm and a maximum torque of up to 3,024 lbs*ft (4,100 Nm) @ 1,500 rpm. It features a proven 2,200 bar Common Rail Injection system and ECU (Electronic Control Unit) - the same as adopted by FPT Industrial's Cursor engine family - resulting in high system efficiency and low fluid consumption. At the same time the lean V8 design with no-EGR, as well as the single-stage WG turbocharger and high resistance materials, all contribute to guarantee system reliability.

The FPT V20 has been specifically developed to match all the requirements needed for different application fields. As a result, it is suitable for both stationary and mobile applications, such as in Construction, Power Generation, Military, Agriculture, and Railways.

The V20 is best-in-class for power-to-weight ratio (13% more than 12 cylinders competitors' average), delivering high performance while preserving vehicle stability and reducing load on axles. The V20 is also the most compact engine in its category, minimizing impact on vehicle dimensions and load capacity. The V20 features top efficiency benefits: it allows for up to 2% of savings on fuel compared to 12 cylinder engines averages thanks to lower friction and smaller displacement. Furthermore, the V20's cross-banks exhaust system design releases optimal turbochargers fluid-dynamics for maximum efficiency.

Developed to be as productive as possible, the V20 adopts a one side serviceability layout: oil, fuel, and blow by filters are placed on the front side allowing an easy access position from the vehicle hood; all filters are remote-mountable on request to fit multiple applications layouts. At the same time, the single cylinder heads are designed and made in high-resistance nodular cast iron to guarantee higher performance with 220 bar PCP and easier maintenance operations.

The V20 adopts FPT Industrial's HI-eSCR technology, proven by more than 25 year of experience and exclusive patented solutions. This regeneration and maintenance free ATS allows for maximized vehicle uptime and contributes to low cost of ownership. The new turbocharger layout with turbines outlet junction allows to improve and to simplify the ATS piping and performance.
Do you want to stay updated on all the news?