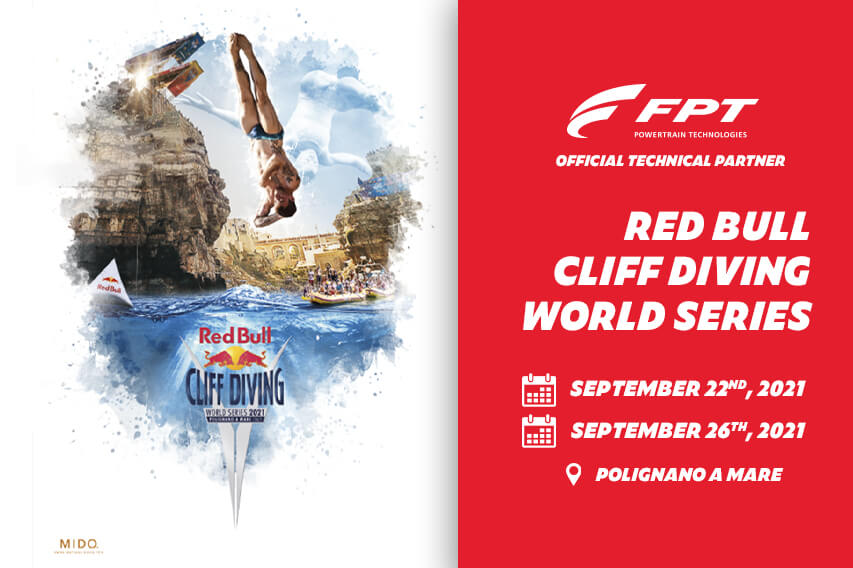 RED BULL CLIFF DIVING WORLD SERIES
FPT Industrial continues its technical partnership with Red Bull, taking the role of Official Technical Partner at the last round of qualifying and the final of the Red Bull Cliff Diving World Series, the high-diving world championship, taking place in Polignano a Mare (Bari, Italy) on the 21st and 22nd and 25th and 26th of September, respectively.
After Red Bull Wake The City, the spectacular Cable Wakeboard competition held at the Darsena reservoir in Milan on the 4th of September to the great appreciation of spectators, where FPT Industrial was present as Official Technical Partner, the Brand will once again be partner in a thrilling, adrenaline-packed event, providing the engines for the support boats used during the competition.
Created and run by Red Bull since 2009, the Red Bull Cliff Diving World Series is an international high-diving competition, during which a strictly limited number of athletes, divided into the two categories Divers and Wildcard Divers, dive from a platform located at a height ranging from 26 to 28 meters above the surface of the water. This year's edition includes eighteen competitions plus the Grand Finale which will decide the men's and women's champions for 2021.