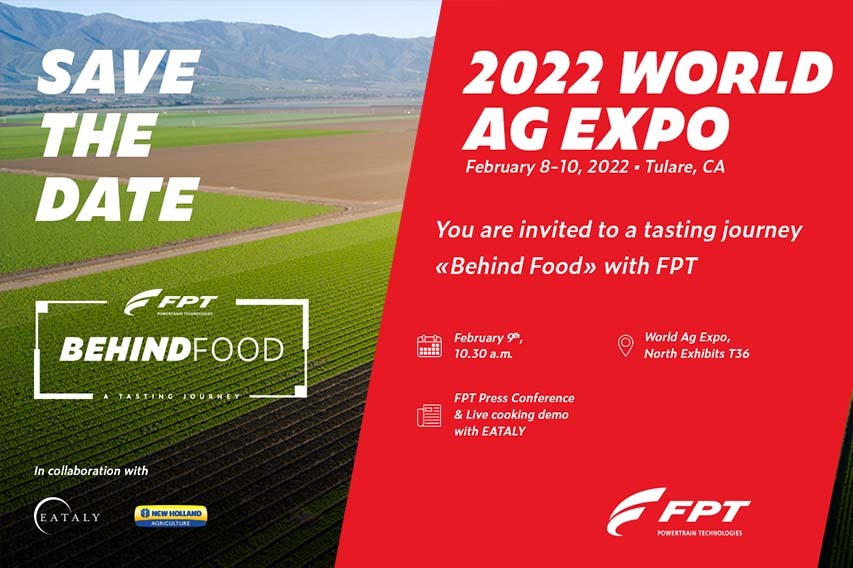 FPT INDUSTRIAL LEADS THE PATH TO SUSTAINABLE AGRICULTURE AT WORLD AG EXPO AND PRESENTS THE "BEHIND FOOD" SPECIAL PROJECT
FPT Industrial is presenting a new special project called "Behind Food" along with its latest engines at the World Ag Expo 2022, the world's largest agricultural exhibition, which takes place in Tulare, California, from February 8 to 10. Visitors can check the news of the Brand at booth T36 at the North Exhibits Hall.
The project "Behind Food" is an initiative of FPT Industrial to promote sustainable agriculture, showing how innovative powertrain technologies are part of a chain that takes high-quality, healthy products from the field to the table. In collaboration with Eataly, the world's largest artisanal Italian food and beverage marketplace, FPT Industrial will debut the "Behind Food" cooking show, taking viewers through a tasting journey from the Californian farms of Sohnrey Family Foods, Trattore Farms, and Hilmar Jerseys to the kitchen of Eataly's headquarters in Turin, Italy. All farms involved in the project are customers of New Holland Agriculture, which is also a key partner of "Behind Food".
Do you want to know more?