Oils and Coolants
The new era of engine fluids.
FPT fluids assure top performance and long durability for all applications, from first fill and throughout the entire life of the engine.
FPT ENGINES AND FLUIDS:
THE PERFECT COMBINATION.
Genuine fluids have been formulated, tested and approved by FPT Industrial engineers under severe laboratory conditions. Extreme load tests were carried out on bench and in field to prove that FPT oil retains its characteristics much longer and better preserve your engine than standard oils, allowing validation of longer change intervals and ensuring perfect engine operation for an extended range of use, up to 50%.
WHY OUR SOLUTIONS
​​​Our FPT lubricants and coolants will guarantee:
Top performances
Engine durability
Protection from wear and tear
Operational costs reduction
Increased life investment
Premium Plus HD
On-Road
Low SAPs engine oil for medium & heavy duty GBVI & Natural Gas engines. Maintenance & Fuel efficiency benefits.
FPI9.LUBR001-TLS E6
FPI9.LUBR003-TLS E6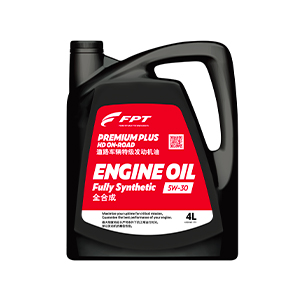 On-Road medium & heavy duty application.
NEF & Cursor GBVI diesel & Natural Gas engines
On-Road medium & heavy duty application.
NEF & Cursor GBVI diesel & Natural Gas engines
Premium Plus On-Road HD 5W-30 is a low SAPs engine oil designed to provide enhanced fuel economy without compromising durability. This fully synthetic oil provides long oil drain performance coupled with enhanced protection against wear and deposits. Maintenance & Fuel efficiency are always maximized.
Provides enhanced fuel economy capability compared to high viscosity oils without compromising engine protection.
Formulated specifically to inhibit deposits and wear with superior soot control.
Longer oil drain capability, especially on low emission engines.
Reduces maintenance costs and downtime.
Reduces acidic levels leads to corrosion, making your engines more durable and longer life.
Superior low-temperature fluidity reduces engine start-up wear in extreme cold weather conditions.
Outstanding protection for emission after-treatment systems such as DPF and DOC with low ash additive system.
INTERNATIONAL SPECIFICATIONS
API CK-4, CJ-4, CI-4, CH - 4 ; ACEA E6
Oil distribution
​​Select a region to discover the oil types available
Do you want to know more?